Ville-Marie Borough Companies
The Ville-Marie borough companies is a lot about the Canada Industry Classifications that includes the North American Industry Classification System (NAICS) and the Standard Industrial Classification (SIC).
A list of companies to help you discover the local jobs opportunities, explore those that may interest you and, eventually, find a job in a borough that suits most if not all your requirements and preferences.
Ville-Marie NAICS Sectors
NAICS 54 - Professional, Scientific & Technical = 1,945 companies and 53,410 career jobs
NAICS 72 - Accommodation & Food Services = 1,123 companies and 23,875 career jobs
NAICS 44-45- Retail Trade = 923 companies and 14,575 career jobs
NAICS 81 - Other Services (Except Public Administration) = 860 companies and 9,545 career jobs
NAICS 52 - Finance & Insurance = 711 companies and 49,600 career job
NAICS 53 - Real Estate & Rental & Leasing = 556 companies and 5,750 career jobs
NAICS 62 - Health Care & Social Assistance = 522 companies and 19,530 career jobs
NAICS 56 - Administrative & Support, Waste Management & Remediation Services = 499 companies and 14.130 career jobs
NAICS 51 - Information & Cultural Industries = 452 companies and 24,265 career jobs
NAICS 41 - Wholesale Trade = 327 companies and 3,930 career jobs
Ville-Marie Employees
In this borough, 61% of the local companies have less than 10 employees, 33% have between 10 to 100 employees and 6% have more than 100 employees. In Ville-Marie, 82% of the local residents are employees and 14% are self-employed.
In Ville-Marie companies, employment is the main source of income for 96% of the local residents, including the self-employed. Among the employed, 42% earn less than $20,000, 30% earn between $20,000 and $50,000, 19% earn more than $50,000 and 9% earn $100,000 or more.
Ville-Marie Population
A borough where 61% of the adult population obtained a university degree, 14% a college degree and 19% a high school diploma. In Ville-Marie, 6% have no diploma but are definitely not without talent, knowledge and experience and 33% are in a low income situation.

In Ville-Marie, the majority of the population is non-immigrant and accounts for 54%, while the immigrant population accounts for 32% and the non permanent residents account for 14% (*).
More Ville-Marie NAICS Sectors
NAICS 71- Arts, Entertainment & Recreation = 214 companies and 9,555 career jobs
NAICS 55 - Management of Companies & Enterprises = 190 companies and 675 career jobs
NAICS 48-49- Transportation & Warehousing = 165 companies and 10,455 career jobs
NAICS 31-33 - Manufacturing = 164 companies and 6,515 companies
NAICS 23- Construction = 147 companies and 2,830 career jobs
NAICS 91 - Public Administration = 137 companies and 28,935 career jobs
NAICS 61 - Educational Services = 130 companies and 20,640 career jobs
NAICS 21 - Mining, Quarrying and Oil & Gas Extraction = 32 companies and 415 career jobs
NAICS 22- Utilities = 13 companies and 6,925 career jobs
NAICS 11 - Agriculture, Forestry, Fishing & Hunting = 9 companies and 195 career jobs
Ville-Marie Languages
In Ville-Marie companies, 63% of the local population can hold a conversation in French and in English. French being the official language in the Province of Quebec, and French and English being the two official languages in Canada.
A borough where local residents who also speak Chinese, Arabic, Spanish, Farsi, Bengali, Russian, Italian, Vietnamese and Portuguese. As for the 650 or so Aboriginal Peoples living in the borough, 44% are members of the First Nations, 51% are Métis and 4% are Inuit.
Ville-Marie Dwellings
A borough where 73% of the local residents are tenants and 27% are owners and where private dwellings are first divided into two categories, 36% condominiums and 64% other dwellings. 
Among those other dwellings, buildings with more than 5 storeys account for 50%, buildings with less than 5 storeys account for 45%, townhouses account for 2%, duplex houses account for 2%, detached houses account for less that 1% and semi-detached houses also account for less than 1%.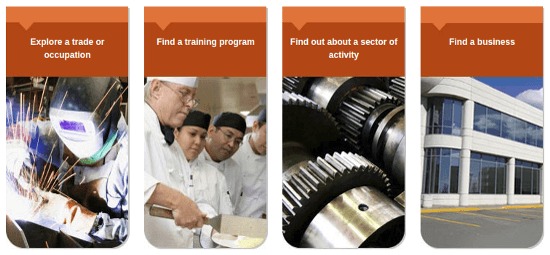 Quebec Trades and Occupations
Also interesting and possibly helpful, Quebec Trades and Occupations above along with the National Occupational Classification - NOC and the Arrondissement Ville-Marie borough companies with more detailed and more recent information.
A few information, not many about the Ville-Marie companies. Information that may help you decide where you would rather live or where you would rather work according to your preferences and your requirements.

Montreal Kits


Ville-Marie Borough Companies




QUESTIONS? About Building Your Business With SBI!
I highly recommend Solo Build It! SBI! took me all the way from an idea to a successful business called Montreal Kits, thanks to its 24/7 serious, genuine, positive and unmatched business building system and to each and every effective tools, courses and support it offers. RLB
Montreal Kits © All Rights Reserved 2018-2023.
The information provided by Montreal Kits is informational only and has no legal value.