Town of Kirkland

The Town of Kirkland rapidly changed from its rural origins to a residential area and functions mostly because of the Trans-Canada Highway that officially opened in 1962.

Town of Kirkland - Wikipedia
An Highway that divides the Town into two parts, but that also provides an easy access to downtown Montreal.
In Kirkland, the industrial park is located on both sides of the highway, while the rest of the area is strictly residential. Kirkland is a young and dynamic town, naturally divided into four sectors along Highway 40. 
Nowadays in Kirkland, it is a lot about maintenance and redevelopment mostly because its close to 400 industrial, commercial and institutional establishments have created a shortage of available space for new constructions.

Town of Kirkland Languages
In Kirkland, 77% of the local residents can hold a conversation in French and in English. French being the official language in the Province of Quebec and French and English being the two official languages in Canada.
A Town where local residents also speak Italian, Chinese, Arabic, Greek, Spanish, Farsi, Punjabi, Polish, Russian and German. As for the 100 or so Aboriginal Peoples living in the City, 68% are members of the First Nations, 21% are Métis and 11% are Inuit.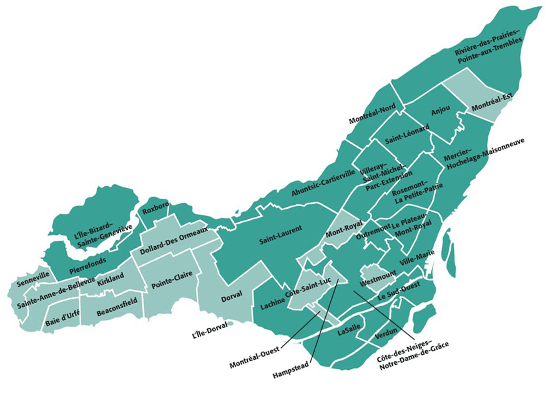 Map of the Island of Montreal with its 15 Cities and 19 Boroughs
Town of Kirkland Dwellings
A Town where 95% of the local residents are owners and 5% are tenants and where private dwellings are divided into two categories, 7% condominiums and 93% other dwellings. 
Among those other dwellings, detached houses account for 86%, townhouses account for 9%, buildings with more than 5 stories account for 3%, semi-detached houses account for 1% and buildings with less than 5 stories, duplex houses and mobile homes account for 1%.
Town of Kirkland Population
In the Town of Kirkland, the majority of the population is non-immigrant and accounts for 71%, the immigrant population accounts for 11% and the non permanent residents account for less than 1% (*).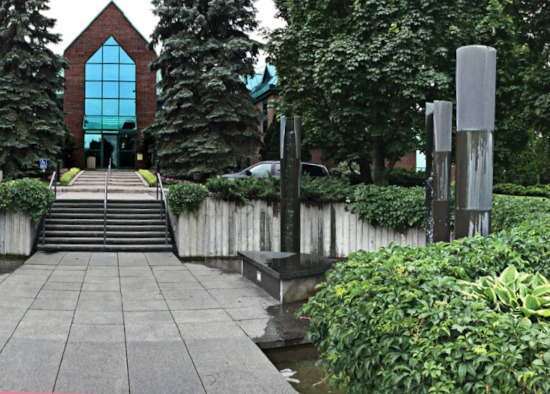 Town Hall - Town of Kirkland
(*) Technically and according to Statistics Canada: "non-permanent residents (NPRs) are persons who have been legally granted the right to live in Canada on a temporary basis under the authority of a temporary resident permit, along with members of their family living with them".

The Town of Kirkland is surrounded by the borough of Pierrefonds-Roxboro, the City of Dollard-des-Ormeaux, the City of Pointe-Claire, the City of Beaconsfield, the Town of Baie-d'Urfé and the City of Sainte-Anne-de-Bellevue.

Montreal Kits - Town of Kirkland


Disclaimer    Keep in Touch!    Privacy Policy   
Rachel Louise Barry    Sitemap    Solo Build It!    What's New?
Montreal Kits © All Rights Reserved 2018-2023
The information provided by Montreal Kits is informational only and has no legal value.