Town of Hampstead

The original planners of the Town of Hampstead were greatly influenced by the development of the two Hampsteads in the north section of the City of London, England. The first being Hampstead proper and the other being Hampstead Garden Suburb.

Town of Hampstead - Wikipedia
Plus, Hampstead, a town located on the island of Montreal and Kiryat Shemonah, a city located in the Northern District of Israel near the Lebanese border have been twin cities since September 1978.  
The Town of Hampstead is very keen on green initiatives and offers Tips & Tricks such as "take public transit to work rather than drive your car" "turn off the tap while brushing your teeth" "at the grocery, avoid buying overly packaged goods" "plant a tree or sponsor a planting" "use a broom not a hose to clean your asphalt or brick pavement" ...
There are many other reasons why people like to live in Hampstead. Among them, the Town is close to Montreal, is fiscally responsible and is 100% residential. 

Town of Hampstead Languages
In Hampstead, 77% of the local residents can hold a conversation in French and in English. French being the official language in the Province of Quebec and French and English being the two official languages in Canada.
A Town where local residents also speak Hebrew, Spanish, Farsi,  Arabic, Chinese, Romanian, Russian, Yiddish, Tagalog and Italian. As for Aboriginal peoples, none have declared an indigenous status during the last census.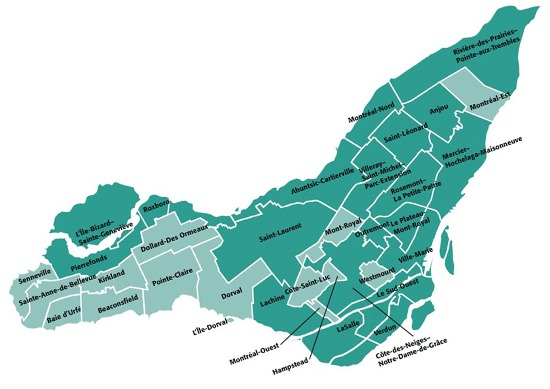 Map of the Island of Montreal with its 15 Cities and 19 Boroughs
Town of Hampstead Dwellings
A Town where 67% of the local residents are owners and 33% are tenants and where private dwellings are divided into two categories, 3% condominiums and 97% other dwellings

Among those other dwellings, detached houses account for 49%, buildings with less than 5 storeys account for 19%, duplex houses account for 13%, buildings with more than 5 stories account for 10% and semi-detached houses account for 9%.
Town of Hampstead Population
In the Town of Hampstead, the majority of the population is non-immigrant and accounts for 69%, the immigrant population accounts for 28% and the non permanent residents account for 3% (*).
Town Hall - Town of Hampstead
(*) Technically and according to Statistics Canada: "non-permanent residents (NPRs) are persons who have been legally granted the right to live in Canada on a temporary basis under the authority of a temporary resident permit, along with members of their family living with them".

The Town of Hampstead is surrounded by the borough of Côte-des-Neiges-Notre-Dame-de-Grâce and by the City of Côte-Saint-Luc. 

Montreal Kits
Town of Hampstead


Disclaimer    Keep in Touch!    Privacy Policy   
Rachel Louise Barry    Sitemap    Solo Build It!    What's New?
Montreal Kits © All Rights Reserved 2018-2023
The information provided by Montreal Kits is informational only and has no legal value.