Town of Baie-DUrfe
---
The Town of Baie-D'urfé is located on the Island of Montreal and is surrounded by the City of Beaconsfield, the City of Sainte-Anne-de-Bellevue and the Town of Kirkland.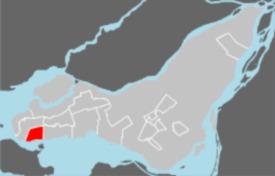 Town of Baie d'Urfé
A Town where a large number of dedicated residents participate as volunteers in many if not all the public and local activities including public security, recreation, culture and sports.
Children and adults living in Baie-d'Urfé have access to many different parks, ten of them at least that each offer a large variety of activities for the delight of the local residents.
Two school boards serve the municipality, one is Anglophone, the other is  Francophone and an industrial park developed in the late 1960s now includes nearly 80 different companies and employment.

Montreal

ISLAND

Kit
Town of Baie-DUrfe by Rachel Louise Barry