Town of Baie-DUrfe
---
A Town of Baie-DUrfe where a large number of dedicated residents participate as volunteers in many if not all the public and local activities such as public security, culture, recreation and sports.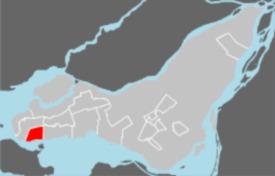 Baie-D'Urfé - Wikipedia
Children and adults living in Baie-d'Urfé have access to as many as twelve large parks where each and everyone of them offer their own specific activities.

Activities such as baseball fields, soccer nets, basketball, swings for toddlers, canine areas, concerts, children play areas, winter sliding, skating rinks, picnic tables, exercise equipment for adults.
Town Hall - Town of Baie-D'urfé
Two school boards serve the municipality, one is Anglophone and is managed by the Lesther B. Pearson School Board, the other is Francophone and is managed by the Marguerite-Bourgeoys School Board. English and French daycare, pre-school, elementary school, private school, international school...
The Town of Baie-DUrfe is located on the Island of Montreal in a peaceful site bordering the Lac Saint-Louis and surrounded by the City of Sainte-Anne-de-Bellevue, the Town of Kirkland and the City of Beaconsfield.
Montreal

ISLAND

Kit


Town of Baie-DUrfe by Rachel Louise Barry
Discovering the many aspects that characterize Montreal and Montrealers