Town of Baie-DUrfe
---
A Town of Baie-DUrfe where a large number of dedicated residents participate as volunteers in many if not all the public and local activities such as public security, culture, recreation and sports.
The Town of Baie-DUrfe is located on the Island of Montreal in a peaceful site bordering the Lac Saint-Louis and surrounded by the City of Sainte-Anne-de-Bellevue, the Town of Kirkland and the City of Beaconsfield.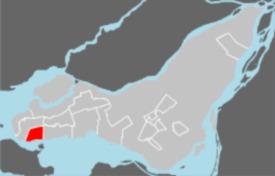 Town of Baie-D'Urfé
The children and the adults who live in Baie-d'Urfé have access to as many as twelve large parks where each and everyone of them offer their own specific and interesting activities.

Activities such as baseball fields, soccer nets, basketball, swings for toddlers, canine areas, concerts, children play areas, winter sliding, skating rinks, picnic tables, exercise equipment for adults and many others.

Two school boards serve the municipality, one is Anglophone and is managed by the Lesther B. Pearson School Board, the other is Francophone and is managed by the Marguerite-Bourgeoys School Board. English and French daycare, pre-school, elementary school, private school, international school...

Town of Baie-dUrfe Languages
---
In the Town of Baie-Durfe, 75% of the local residents can hold a conversation in French and in English. French being the official language in the Province of Quebec and French and English being the two official languages in Canada.
A Town where local residents also speak German, Italian, Chinese, Spanish, Farsi, Arabic, Russian, Portuguese and Romanian. A Town where 40 or so aboriginal peoples are Métis.
Town of Baie-dUrfe Dwellings
---
A Town where 94% of the local residents are owners and 6% are tenants and where private dwellings are divided into two categories, 5% condominiums and 95% other dwellings. 

Among those other dwellings, detached houses account for 93%, townhouses account for 3%, buildings with less than 5 stories account for 3% and semi-detached houses account for 1%. 
Town of Baie-DUrfe Population
---
In the Town of Baie-DUrfe, the majority of the population is non-immigrant and accounts for 71%, the immigrant population accounts for 26% and the non-permanent residents account for 3% (*)
(*) Technically and according to Statistics Canada: "non-permanent residents (NPRs) are persons who have been legally granted the right to live in Canada on a temporary basis under the authority of a temporary resident permit, along with members of their family living with them".
Town Hall - Town of Baie-D'Urfé
Montreal

ISLAND

Kit




Town of Baie-DUrfe 

by Rachel Louise Barr

y

Discovering the many aspects that characterize Montreal and Montrealers