Naskapi Nation of Kawawachikamach
When the Europeans first arrived, the Naskapi Nation of Kawawachikamach were living off caribou hunting, an activity that provided them with essential items such as food - most parts of the caribou provide high levels of protein and iron - clothing and tools. Caribou that are now classified as vulnerable to extension by some and only one step above being endangered by others.
A life that forced the Naskapis to live as nomads so they could follow the caribou herds during their migration. As summer approaches, caribou herds head north where the snow begins to fall and then head back south where the weather is getting colder. Caribou herds that spend a good part of the year on the tundra from Alaska to the Baffin Island.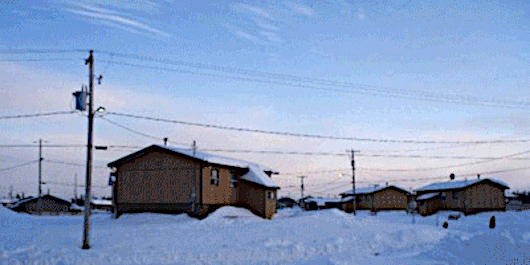 Naskapi - Kawawachikamach - McGill
Naskapi Kawawachikamach Village
The only Naskapi First Nation in the province of Quebec is located near Schefferville in a village called Kawawachikamach which, quite rightly, means "the winding river that changes into a large lake". 
Naskapi people who were once a nomadic nation and whose survival depended almost exclusively on the caribou. Nomadic Naskapis who, in the late 1980's, left Kuujjuaq on the west shore of the Koksoak River and settled in Shefferville in Northern Quebec.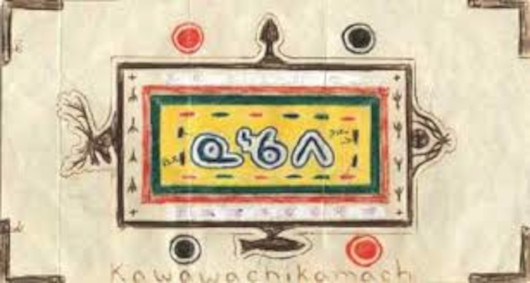 Flag of the Kawawachikamach Band of the Naskapi Nation
The Village of Kawawachikamach is well equipped with a primary and a secondary school, a CLSC - Centre local de services communautaires, a fire station, a police station, a shopping center, a community center, a recreation center and a Naskapi radio station. 
Naskapi of the Algonquian language spoken by the Naskapis of Quebec and Labrador and written by some. English is their second language and French is spoken by many.
The local Naskapi Société de développement commercial, the SDC was created to ensure the socioeconomic development of the community through, among others, an outfitter business, a shopping center, an arts & crafts store, a construction company along with road maintenance and services.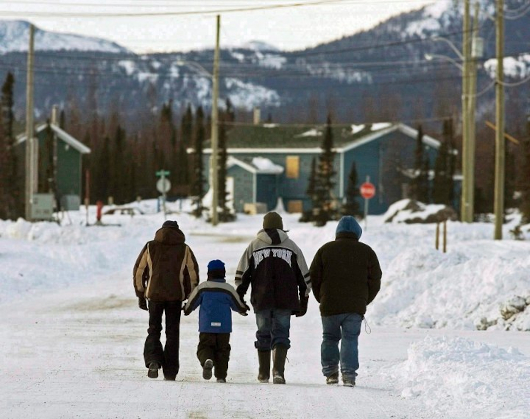 Naskapi - Kawawachikamach - Global News
Naskapi Nation and Village

Based on the profound knowledge of their land and their wildlife, the Naskapi Nation develops, organizes and offers lodging, hunting, fishing and trapping expeditions across their partly swampy, partly coniferous forests.
The Naskapi Nation and village is both quite modern and quite ancient mostly because the Naskapis preserved many aspects of their traditional culture, values and justice. Harvesting is at the center of their spirituality and they still partly rely on hunting, fishing and trapping for subsistence and for raw materials such as animal furs.
A James Bay and Northern Quebec Agreement signed by the Cree and the Inuit in 1975,  slightly modified and signed by the Naskapis in 1978. Naskapis who laid the foundations of a new relation and a new collaboration between the Crees, the Inuits, the Naskapis and the Quebec and Canadian governments.
Elected for a term of three years, the Chief and the Council of the Naskapi Nation are responsible for promoting the development of the Naskapi community, for managing its finances, its lands and its natural resources, for negotiating various agreements and for making sure that building regulations are safe.
A Kawawachikamach Village linked to Schefferville by a gravel all-season road. Rail transportation is provided by Tshiuetin Rail Transportation Inc., and is available on a weekly basis between Schefferville, Wabush, Labrador City, and Sept-Îles. Rail services that include passenger and freight ranging from large vehicles to  gasoline, to fuel oil and to refrigerated goods.
The Abenakis, Anishinaabeg, Atikamekw, Crees, Huron-Wendats, Innus, Maliseets, Mi'kmaq, Mohawks, Naskapis First Nations and, the Inuit in Inuit Nunangat, the Arctic regions of Greenland, Canada and Alaska.
Montreal Kits




Naskapi Nation of Kawawachikamach




Naskapi Singular - Naskapis Plural
Rachel Louise Barry    Sitemap    Solo Build It!    What's New?
Montreal Kits © All Rights Reserved 2018-2023
The information provided by Montreal Kits is informational only and has no legal value.