Montreal Urban Squares

Montreal urban squares, urban parks, urban areas, each with many different and many interesting urban gatherings, urban discoveries, urban elelments...
Dominion Square
A Protestant cemetery until around 1850, the Dominion Square was acquired by the City of Montreal in 1871 and became the Dorchester Square when the Place du Canada was created in 1967.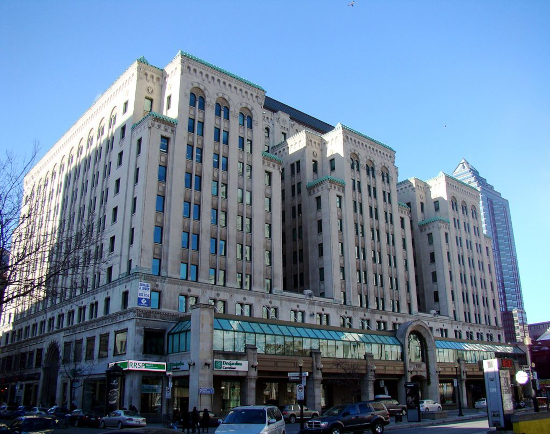 Dominion Square
The Dominion Square was a large urban square in downtown Montreal and a focal point for pedestrians until its southern part became the Place du Canada and its northern part became the Dominion Square of today.

Saint-Louis Square
The Square Saint-Louis created in 1876 is named after two business brothers, Emmanuel and Jean-Baptiste Saint-Louis, sons of a contractor.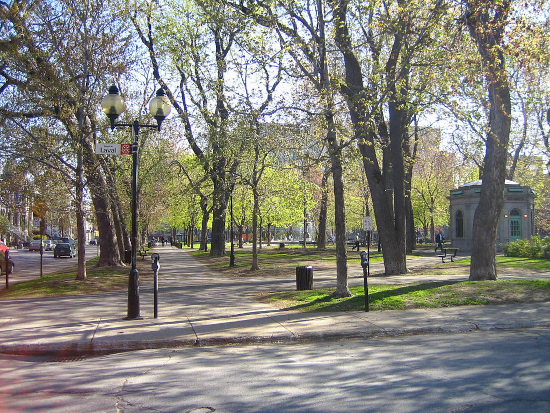 Square Saint-Louis
While still a teenager, Emmanuel became an apprentice carpenter and stonemason and, in 1872, at the age of twenty, became an entrepreneur, joined forces with his brother, Jean-Baptiste Saint-Louis and created the Société Saint-Louis Frères.

Viger Square
Jacques Viger (1787-1858) was the first mayor of the City of Montreal. The initial Viger Square was inaugurated in 1860 but, as it stands now, it has lost all its prestige and holds very little resemblance to what it was once.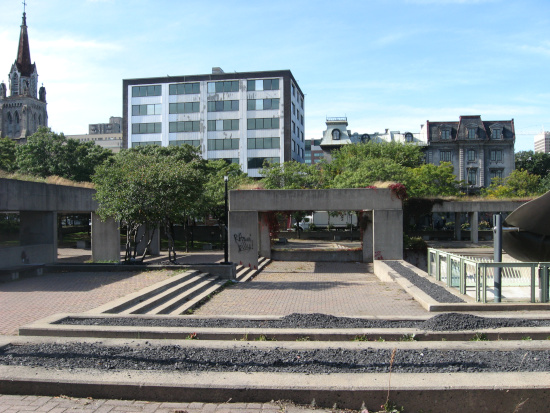 Square Viger
After a major restoration, the sculpture of Jean-Olivier Chénier (1806-1837), doctor, surgeon and political organizer regained its honorable place in the Viger Square and, the City of Montreal recently presented its overall plan and vision of a major restoration of the Square Viger. 

Victoria Square
More urban squares as in Victoria Square since 1813, first as the Place du Marché à Foin, then as the Place des Commissaires and then as the Victoria Square right before the visit of the Prince of Wales in 1860. A Prince who became King Edward VII in 1901 and whose mother was Queen Victoria.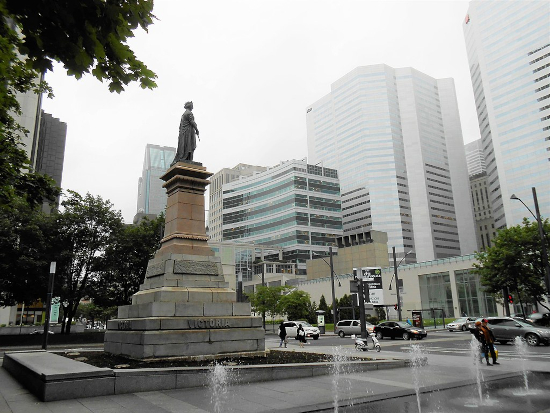 Victoria Square
Nowadays, the Victoria Square is a prestigious address in the Quartier International de Montréal. It is also a lively neighborhood with famous skyscrapers, high-end hotels, fancy restaurants, a convention center, a museum and many relaxing benches, fountains and trees.

Phillips Square
The Phillips Square is named after Thomas Phillips, a building contractor and city concillor who bought the land from fur trader Joseph Frobisher. Phillips Square is located on a land donated by his widow as a perpetual memorial to her husband who died in 1842.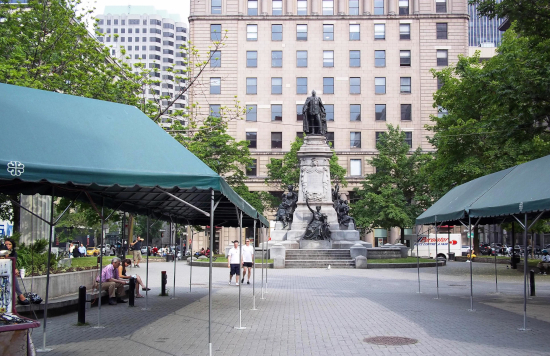 Phillips Square
The Phillips Square features a bronze monument of King Edward VII who visited Montreal in 1860 and who opened the Victoria Bridge while he was still the Prince of Wales. The monument designed by Louis-Philippe Hébert was erected in 1914.
Sir Georges-Etienne Cartier Square
The Sir George-Étienne Cartier Square is a rectangular square located in what is now le Sud-Ouest borough. A small square with a fountain surrounded by row houses.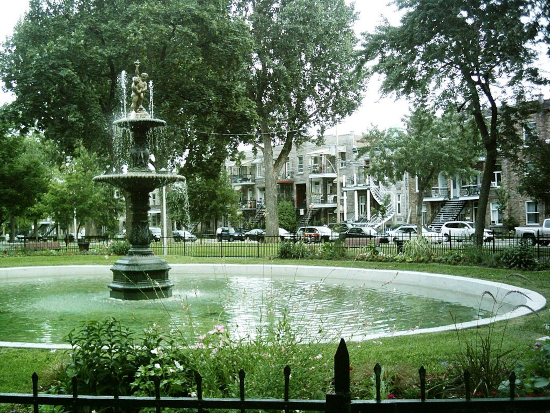 Sir George Etienne Cartier Square
Named after a politician, the fountain was built in 1912 on the site of an old slaughterhouse. According to the regulations adopted during the development of Saint-Henri (now annexed to the city of Montreal) the houses around the square were built with stone facades and decorative brick.

Montreal Kits


Montreal Urban Squares




Disclaimer    Keep in Touch!    Privacy Policy   
Rachel Louise Barry    Sitemap    Solo Build It!    What's New?
Montreal Kits © All Rights Reserved 2018-2023
The information provided by Montreal Kits is informational only and has no legal value.