Montreal Urban Agglomeration
Municipal powers in Montreal urban agglomeration also called Island of Montreal and officially called Agglomeration de Montreal. An Island and an Agglomeration home to one City of Montreal and to 15 reconstituted cities divided into seven cities, six towns, one village and one island. Chapter E-20.001 Act Respecting the Exercise of Certain Municipal Powers in Certain Urban Agglomerations
Objects and Definitions
1. The object of this Act is to determine the municipal powers that, rather than being exercised separately for each local municipal territory included in an urban agglomeration defined in Title II, must be exercised globally for that urban agglomeration.

Related Municipalities 
4. The Urban Agglomeration of Montréal is composed of 15 cities and one island.

Montréal 

Baie-D'Urfé
Beaconsfield
Côte-Saint-Luc
Dollard-Des Ormeaux
Dorval

Hampstead
Kirkland
Montréal-Est
Montréal-Ouest
Mont-Royal
Pointe-Claire
Sainte-Anne-de-Bellevue
Senneville
Ville de L'Île-Dorval
Westmount.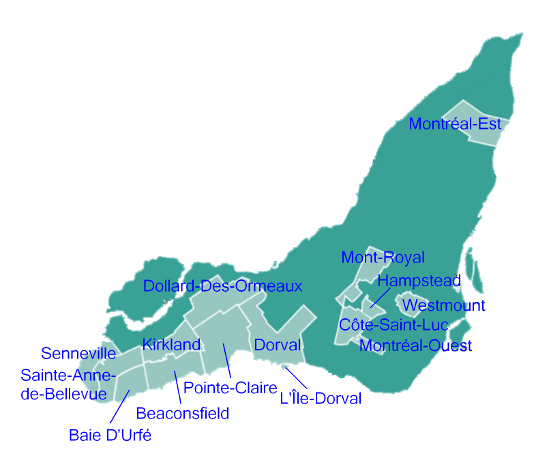 Agglomération de Montréal also called Ile de Montréal / Island of Montreal with the City of Montreal in dark green
Matters Concerning the Related Municipalities

19.The following matters are related to all the municipalities:

(1)  municipal assessment;
(2)  passenger transportation;
(3)  the thoroughfares forming the arterial road system of the urban agglomeration;
(4)  (paragraph repealed);
(5)  water supply and water purification;
(6)  the disposal and reclamation of residual materials and any other aspect of their management if they are dangerous, as well as the development and adoption of a residual materials management plan;
(7)  municipal lakes and watercourses;
(8)  the components of public security, namely, (a) police, civil protection, fire protection and first responder services; (b) the 9-1-1 emergency center; (c) the development and adoption of the civil protection plan and the fire safety cover plan;

(9)  the municipal court;

(10)  social housing and assistance intended specifically for the homeless; (10.1)  the prevention and eradication of drug addiction and prostitution;
(11)  the components of economic development, namely, (a) the promotion of the territory of a related municipality, including the promotion of tourism, when it is done outside that territory; (b) tourist services in the urban agglomeration; (c) (paragraph repealed); (d) convention centers, ports and airports; (e) industrial parks and railway sidings; and (f) assistance intended specifically for a business.
Montreal Kits
Montreal Urban Agglomeration

Disclaimer    Keep in Touch!    Privacy Policy   
Rachel Louise Barry    Sitemap    Solo Build It!    What's New?
Montreal Kits © All Rights Reserved 2018-2023
The information provided by Montreal Kits is informational only and has no legal value.