Montreal Tourism Kit



Montreal as in Montreal Tourism Kit is the largest city in the province of Quebec. A Montreal Tourism Kit highly interested in the physical and organizational structures and facilities of our city.
We rarely pause to acknowledge and examine the complexity of our daily urban life and the countless systems and facilities that operate and support the structure and the internal workings of a city, including the City of Montreal. 
Montreal has everything, sewers, power, telecom, water, road, rail and marine traffic, all piled up, one top of the other. Water, sewer and garbage systems that are indispensable, and so are our telephone,  cellphone, television, radio and postal services. 
Vehicles flow through our streets, tons of cargo move in and out of our freight terminals, millions of gallons of clean water flow through our pipes while millions more are carried away as waste. 
Streets and sidewalks are the most important elements for moving large numbers of people, goods are transported by ship, rail, air or truck and energy powers our City. 
Our streets protect our utilities such as our electricity, water, gas, sewage and metro system. Streets that also provide a platform for our traffic signals, parking signs, meters, streetlights and sewers. 
Graffitis in Montreal that come and go!
Montreal Tourism Kit Builder
Our Montreal Metro System is a rubber-tired underground transit system and a high-capacity public transport serving Greater Montreal since 1966. Montreal Metro is renowned for its architecture design and its public art.

Since the 1960's, our Underground City also called Ville Souterraine, also called RÉSO connects shoppers to over 1,000 restaurants, retailers and businesses through a network of tunnels, corridors and plazas.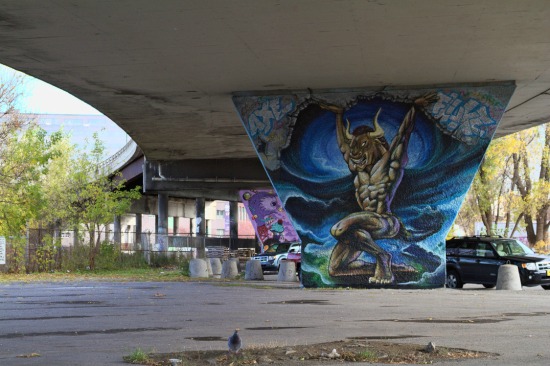 Graffitis in Montreal that come and go!
Shipping is the least polluting means of transporting goods. As such, our Port of Montreal spans 30 kilometres and crosses three cities, the City of Montreal, the Montreal East City and Ville de Contrecoeur on the South shore.

A freight train is a group of freight cars hauled on a railway by one or more locomotives. Rail freight transport is considered a cheaper option 
Tracks and trains such as our CN Rail, Canadian National Railway, a Canadian Class 1 freight railway headquartered in Montreal that serves Canada and the Midwestern and Southern United States. 
Graffiti in the City of Montreal - Photo RLB
Montreal is an island and this is one of the main reasons why seven bridges and two tunnels span the St-Lawrence River and Seaway. 
Plus, eleven bridges, one railway bridge, one railway crossing, one Montreal Metro tunnel and one power plant span the Riviere-des-Prairies while four bridges span the Lake of Two Mountains and the Ottawa River East Channel.
Interested in finding out more?
If so, explore our City of Montreal systems and meet the people behind our air cargo, air wares, bridges, electricity, garbage, mail, markets, metro system, natural gas, rail freight, maritime freight, sewage, steam, streets, telephone, tunnels, water... A Comment ça marche? Montreal and a specific form of tourism related to the structure of our city.
Montreal Kits
 Montreal Tourism Kit


Disclaimer    Keep in Touch!    Privacy Policy   
Rachel Louise Barry    Sitemap    Solo Build It!    What's New?
Montreal Kits © All Rights Reserved 2018-2023
The information provided by Montreal Kits is informational only and has no legal value.