Inuit of the North Inuit the People

Inuit of the North Inuit the people Inuktut the language and one of the three Canadian Aboriginal  groups officially referred to as First Nations, Inuit and Métis.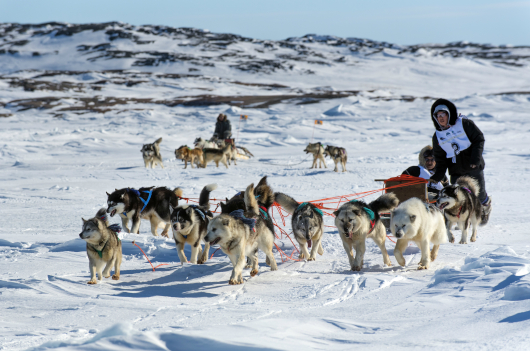 Annual race aimed at reviving Inuit dog sledding tradition set to kick off in Nunavik - Photo RCI
The Nunavut has four official languages: Inuktitut, Inuinnaqtun English and French, Inuk singular, Inuit plural and Inuktut for "the people". Inuit who call themselves Nunavummiut plural in Nunavut.
Inuit - Inuktitut for "the people" - are Indigenous people, the majority of whom inhabit the northern regions of Canada. An Inuit person is known as an Inuk. The Inuit "homeland" is known as Inuit Nunangat which refers to the land, the water and the ice contained in the Arctic.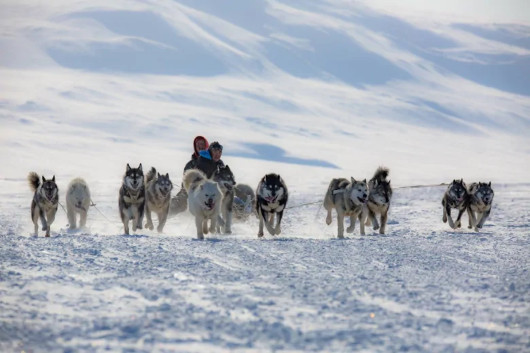 Nunavut Quest sled dog race takes off from Arctic Bay - CBC
A homeland divided into four regions:
Inuvialuit "the real people" in the Northwest Territories,
Nunavik "great land" in Northern Quebec,
Nunatsiavut "our beautiful land" in Northern Labrado
Nunavut "our land" in Northern Canada.
In Nunavik in Northern Quebec, Kuujjuaq is the administrative capital and the largest Inuit community located on the Koksoak River near the Ungava Bay. Most Nunavummiut in Inuit Nunangat can conduct a conversation in Inuktut.
John Hickes pours love, time into sled dogs and training in Nunavut - Nunatsiak News
Land, Water and Ice in Inuit Nunangat

The Inuit have lived in Inuit Nunangat, their homeland since immemorial time. They are culturally resilient and have always seen land, water and ice as an integral part of their culture and of their way of life.
Country foods is still important in their daily lives but fewer Inuit are now hunting full-time or even part time. Their access to fish, caribou, seals, whales and birds is now limited and often replaced by store-bought foods with lower nutritional value.
The Inuit of today went through many important changes. They moved into permanent settlements, they were introduced to formal education, they now participate in wage-economics and they mechanized their hunting and their travel. 
Nunavut - Pokona News
Inuit of the North in Inuit Nunangat

There are eight main Inuit cultural groups and, in Canada, their language called Inuktitut is divided into five main dialects. The Inuit are a separate ethnic group from all the other Canadian Indigenous societies and are not subject to the Indian Act. 
English is their second language while French is progressing. Their 14 villages are located on the shores of the Hudson Bay, the Hudson Strait and the Ungava Bay in the northeastern part of Canada.
During the last century or so, the Inuit went from a semi-nomadic to a more sedentary lifestyle. They slowly accustomed themselves to technology while remaining eager to preserve their values, their language and their culture.
Stone, bone and ivory carving are widely practiced by Inuit who carve entirely by hand, using an ax and a file. The Inuit are famous for their soapstone (steatite) carvings and for their engravings, two of their significant art activities highly prized by collectors and art galleries. Inuit printmaking is also enjoying its own popularity. Fiber arts, drawings and paintings are also produced in quantity, but not with the same popularity and the same fame.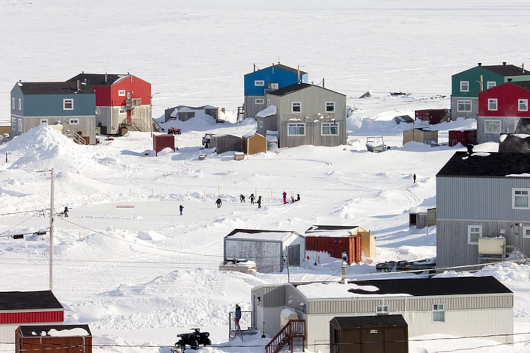 Photo: Habiter le Nord Québécois - Living in Northern Quebec
Montreal Kits


Inuit of the North Inuit the People




Inuk Singular - Inuit Plural
The Abenakis, Anishinaabeg, Atikamekw, Crees, Huron-Wendats, Innus, Maliseets, Mi'kmaq, Mowhawks, Naskapis First Nations and, the Inuit in Inuit Nunangat, the Arctic regions of Greenland, Canada and Alaska.

Disclaimer    Keep in Touch!    Privacy Policy   
Rachel Louise Barry    Sitemap    Solo Build It!    What's New?
Montreal Kits © All Rights Reserved 2018-2023
The information provided by Montreal Kits is informational only and has no legal value.