Innus of the Immensity

The Innus of the Immensity are located in an area called Nitassinan which means "Our Land". One if not the most populous First Nation in Labrador. "Our Land" and two communities, Sheshatshiu Innu in Sheshatshiu north of Goose Bay and Mushuau Innu in Natuashish in the Atlantic region.
Innu First Nation and communities where the Algonkian language called "Innu-aimun" is spoken by the majority and where French is their second language. Innu in Algonkian and "human beings" in English. Innu Singular, Innus Plural.

Innu Young Children - Ici Radio Canada
Natuashish and Sheshatshiu Communities
The Natuashish and Sheshatshiu communities highly differ from one another. Differences that are mostly related to their geographical location, the size of their community and their socio-economic development and activities. 
The Sheshatshiu community has a year round road access but the Natuashish community is accessible only by plane or by boat and then to the inland and to its ancestral hunting and fishing grounds.
Innu Children - Ici Radio Canada
The Sheshatshiu Band Council is composed of one Chief and six Councilors while the Mushuau Band Concil of Natuashish is composed of one Chief and four Councilors. Chiefs and Councillors with specific roles and duties who make decisions on behalf of their members. 
Interestingly, the Innu Nation has had gender equity on its two board of directors since 1992. Both Chiefs also sit on the Board of Directors of the Innu Round Table and the three groups work together and collaborate.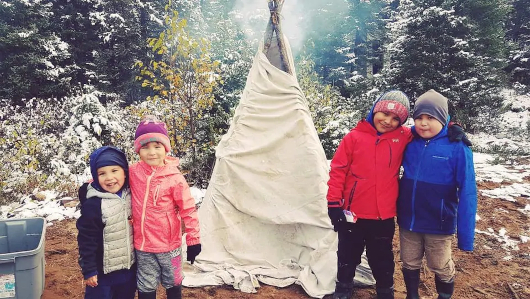 Innus - Ici Radio-Canada
Innu People of the Immensity
The Innu traded freely with Europeans who, at first, called them Montagnais because they lived in the low mountains of the North Shore. 

Nowadays, the Innu Business Database includes close to 150 registered companies in 40 different business categories including Aircraft Services, Consulting, Engineering, Forestry, Retail Trade, Tourism ...
Innu Children - Innu.ca
Innu First Nation

The Innu people of Labrador are formally organized under the "Innu First Nation" to protect their rights, their lands and their ways of life against industrialization and against external and/or negative forces.
An Innu Nation who formally represents the Innu of Labrador and who is currently involved in land claim and self-governance negotiations with the federal and the provincial governments.

An Innu Nation and two Band Councils who succeeded in having the federal government register the Innu people of Labrador as status Indians, giving them access to the federal programs and federal services for First Nations people in Canada. The Canadian government also recognized the Natuashish and Sheshatshiu communities as reserve lands.
Montreal Kits
Innus of the Immensity

The Abenakis, Anishinaabeg, Atikamekw, Crees, Huron-Wendats, Innus, Maliseets, Mi'kmaq, Mowhawks, Naskapis First Nations and, the Inuit in Inuit Nunangat, the Arctic regions of Greenland, Canada and Alaska.

Disclaimer    Keep in Touch!    Privacy Policy   
Rachel Louise Barry    Sitemap    Solo Build It!    What's New?
Montreal Kits © All Rights Reserved 2018-2023
The information provided by Montreal Kits is informational only and has no legal value.