Indigenous Peoples of Canada
Indigenous Peoples of Canada and members of the First Nations.

In Canada, First Nations is used to describe Indigenous peoples who are not Métis or Inuit. The Métis are people of mixed European and Indigenous ancestry and the Inuit - Inuktitut are "the people" who settled in the northern regions of Canada.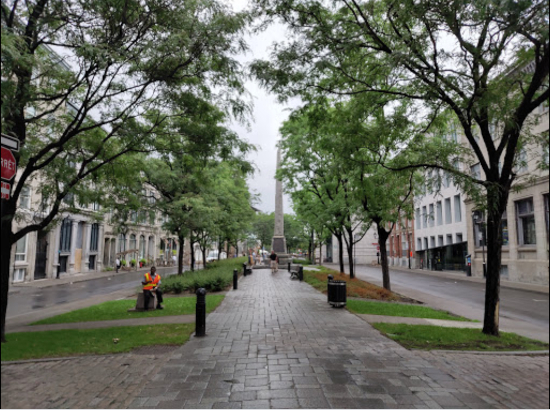 Place de la Grande Paix - Place d'Youville - Ville de Montréal
Place de la Grande Paix de Montréal

The members of the First Nations were first referred to as Indians and then as North American Indians, thanks to Christopher Columbus who, in 1492, believed (and wished) he had landed in India. A collective "Indian" term that still represents a challenge.
During the 17th century many conflicts occurred. Conflicts that involved the Iroquois of Five Nations, numerous First Nations and French colonial forces. Iroquois and their English allies who fought against the French and against their Indigenous allies. Historic Beaver Wars and a highly competitive fur trade. 
A white pine that stands for the original presence of Indigenous peoples in Montreal.
The hostilities continued until 1701 when the Great Peace treaty was signed between the New France and 39 First Nations of North America. Several nations who drew their pictographs on a landmark treaty and who agreed to remain at peace with each other.
In 2001, part of the Place d'Youville in Old Montreal was renamed Place de la Grande Paix de Montréal to commemorate the Great peace of Montreal of 1701. A Place d'Youville where a work of art named the Pioneer Obelisk was erected in 1893 to celebrate the 250th anniversary of the City of Montreal founded in 1642.

First Nations Land Management
In 2017, the Canadian Government dissolved the Indigenous and Northern Affairs Canada and replaced it with two new ministries, the Indigenous Services and the Crown Indigenous Relation and Northern Affairs.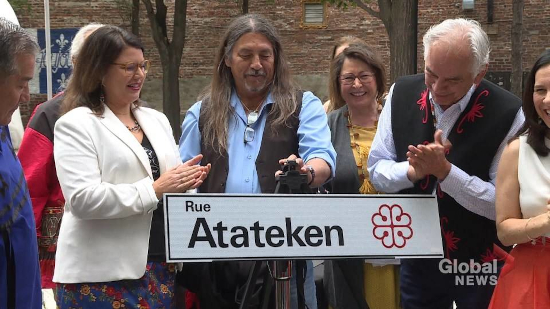 Montreal renames Amherst Street to rue Atateken to honour Indigenous Peoples - Global News, Kalina Laframboise, June 21, 2019. In Mohawk Atateken means "brothers and sisters".
"Our federal government Indian Act is essentially an outdated statute that, despite a great deal of opposition, continues to resist change.
Instead, a number of agreements, such as the First Nations Land Management Act of 1999, have allowed First Nations governments to move toward some level of self-government without abolishing the Indian Act."
Indigenous Peoples Day
What is First Nation? Since 1996, on June 21, we celebrate what was once the National Aboriginal Peoples Day now called the National Indigenous Peoples Day. Aboriginal is still accepted, but the term Indigenous is now internationally recognized.
Every year, on June 21st, during Indigenous Day, Montrealers recognize and celebrate the heritage, the cultures and the achievements of the Canadian Indigenous nations.
Indigenous organizations such as the Jardin des Premières Nations at the Montreal Botanical Garden officially called Space for Life to promote the history of local Indigenous societies and such as the Roundhouse Café on Ste-Catherine corner of Atwater to promote the social diversity and the empowerment of Indigenous peoples.
Montreal Kits


Indigenous Peoples of Canada




Disclaimer    Keep in Touch!    Privacy Policy   
Rachel Louise Barry    Sitemap    Solo Build It!    What's New?
Montreal Kits © All Rights Reserved 2018-2023
The information provided by Montreal Kits is informational only and has no legal value.