L'Ile-Bizard-Sainte-Genevieve Electoral Profile
---
The borough of L'Ile-Bizard-Sainte-Genevieve electoral profile, as well as all the other Election Montreal electoral profiles are divided into a specific number of districts based on the electoral geography of the borough.
Each of our 19 boroughs and each of their respective socio-economic characteristics and electoral districts are divided in such a way that each district has a similar number of electoral total members.
L'Ile-Bizard-Sainte-Genevieve Electoral Map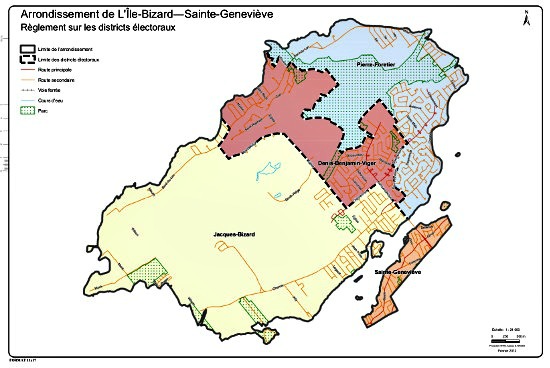 L'Ile-Bizard-Sainte-Genevieve Electoral Geography
L'Ile-Bizard-Sainte-Genevieve four (4) electoral districts
Pierre-Foretier

Denis-Benjamin-Viger

Jacques-Bizard

Sainte-Geneviève and a total of 13,855 electors in 2017

On our next municipal election day, local residents will vote for
the mayor of the City of Montreal
and for the five (5) members of the Borough Council
the mayor and city Councillor of

the

borough
one (1) borough Councillor for each of the four (4) electoral districts
Municipal Services & Programs
---
The two most popular municipal parties in 2020 in Montreal are Projet Montreal founded in 2004 and Ensemble Montréal founded in 2013. The ideology of Projet Montreal is related to Social democracy and the ideology of Ensemble Montreal is related to Centrism.
Lets just say that, according to The Canadian Encyclopedia, "there is a significant gulf between the social democratic forces in the English and French Canada". As for Centrism, according to many journalists, the "median voter" — the one statistically in the centre of the political spectrum — will win the next election.
Projet Montreal Electoral Votes & Program
---
That said, La ville de demain et le message de la cheffe Valérie Plante, mayor of the City of Montreal elected in 2017 for a four year mandate are, of course, both related to Projet Montreal, to its program and to the work that needs to be done. 
1. DES SERVICES AUX CITOYENS EFFICACES

Une vie de quartier dynamique

Faire de tous les quartiers des milieux de vie agréables ...

Des infrastructures performantes

Mieux gérer les chantiers ...


Une ville sécuritaire pour tous

Améliorer la transparence et la responsabilisation du service de police ...

Une vitalité culturelle exemplaire

Faire de la citoyenneté culturelle une valeur montréalaise ...

Des espaces de sports et de loisirs de qualité

Faire des parcs de la ville des milieux de vie actifs, contribuant aux saines habitudes de vie pour les familles, les jeunes et les aînés


2. DES HABITATONS ABORDABLES ET DE QUALITÉ POUR TOUS


Développer des quartiers urbains complets, vivants et dynamiques

3. UNE VILLE MOBILE ET DYNAMIQUE


Développer un nouveau Plan de transport avec un objectif de mobilité pour tous les Montréalais
L'Ile-Bizard-Sainte-Genevieve Electoral Profile - Projet Montreal
---
4. UN DÉVELOPPEMENT   ÉCONOMIQUE ET PROSPÈRE

Une économie durable tournée vers l'avenir


Implanter un développement économique axé sur les secteurs d'avenir ...

Des artères commerciales fortes

Minimiser l'impact des chantiers sur les commerçants et leur clientèle ...




5. UNE VIE DÉMOCRATIQUE ET UNE SAINE GESTION MUNICIPALE

Une démocratie en santé


Améliorer les services aux citoyens en instaurant une nouvelle culture de responsabilisation chez les élus et les hauts fonctionnaires ...

Une saine gestion municipale


Plafonner les hausses de taxes foncières des propriétaires occupants à la seule inflation ...

Une ville inclusive

Valoriser la richesse de la diversité montréalaise et la création de liens au sein de cette diversité ...



Montreal 

ISLAND

 Kit


L'Ile-Bizard-Sainte-Genevieve Electoral Profile




by Rachel Louise Barry

To be reviewed, analysed, evaluated and made available online. RLB