Cote-des-Neiges-Notre-Dame-de-Grace Companies
---
Cote-des-Neiges-Notre-Dame-de-Grace companies is about the 20 NAICS Economic Sectors and companies located in the borough, all 20 of them.

A list of companies to help you discover the local jobs opportunities, explore those that may interest you and, eventually, find a job in a borough that suits most if not all your requirements and preferences.
Also interesting and possibly useful, Emploi Québec and its section called Search for Sectors of Activities and the Banque d'information 311 for more detailed or more recent information.

Photo by RLB
Cote-des-Neiges-Notre-Dame-de-Grace Companies by NAICS Sectors
---
NAICS 62 - Health Care & Social Assistance
NAICS 54 - Professional, Scientific and Technical Services

553 companies and 6,425 career jobs
NAICS 44-45 - Retail Trade
489 companies and 7,049 career jobs
NAICS 81 - Other Services (Except Public Administration)
NAICS 72 - Accommodation & Food Services
NAICS 53 - Real Estate and Rental and Leasing
NAICS 41 - Wholesale Trade
178 companies and 1,515 career jobs
NAICS 23 - Construction
NAICS 56 - Administrative & Support, Waste Management and Remediation
NAICS 48-49 - Transportation & Warehousing
Photo by RLB
More About Cote-des-Neiges-Notre-Dame-de-Grace Companies
---
NAICS 52 - Finance & Insurance
NAICS 31-33 - Manufacturing
103 companies and 3,325 career jobs
NAICS 61 - Educational Services
94 companies and 16,275 career jobs
NAICS 51 - Information and Cultural Industries
69 companies and 1,915 career jobs
NAICS 71 - Arts, Entertainment and Recreation
NAICS 91 - Public Administration
NAICS 55 - Management of Companies and Enterprises
13 companies and 75 career jobs
NAICS 11 - Agriculture, Forestry, Fishing and Hunting
NAICS 22 - Utilities
2 companies and 125 career jobs
NAICS 21 - Mining, Quarrying and Oil and Gas Extraction
Photo by RLB
Boroughs of Montreal Jobs Opportunities
---
In Cote-des-Neiges-Notre-Dame-de-Grace companies, 75% of the local companies have less than 10 employees, 1% have more than 200 employees and 12% of the residents are self-employed.
The local non-immigrant population accounts for 47% and the immigrant population also accounts for 47%. In CDN-NDG, 57% of the adult population has a university degree, 15% a college degree, 22% a high school diploma and 6% have no diploma but are definitely not without talent, knowledge and experience.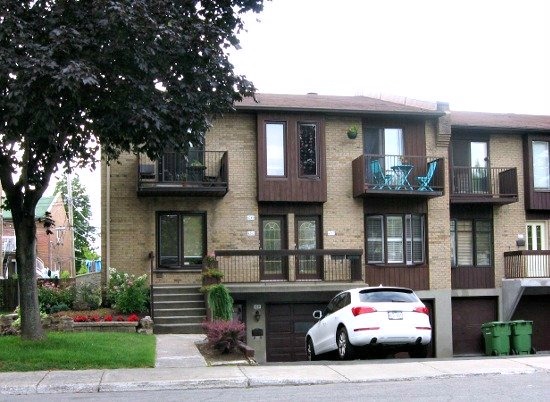 Montreal by RLB
In CDN-NDG companies, employment is the main source of income for 95% of the active population. Among the local and active population, 41% earn less than $20,000, 36% earn between $20,000 and $50,000, 17% earn more than $50,000 and 6% earn $100,000 or more.
A borough where 73% are tenants and 27% are owners. Among the tenants, housing in a duplex accounts for 15%, while 54% of the local apartments buildings have five floors or less and 22% have more than five floors. Among the owners, 14% chose to buy a condo and 86% chose a detached or semi-detached cottage, bungalow, duplex or triplex.

Photo by RLB
Borough Language Breakdown Montreal
---
In Cote-des-Neiges-Notre-Dame-de-Grace, 62% of the local population can hold a conversation in French and in English. French being the official language in the Province of Quebec and French and English being the two official languages in Canada.

Local residents who also speak Arabic, Tagalog, Spanish, Chinese, Persian, Russian, Romanian, Italian, Tamil and Vietnamese. As for the 900 or so Aboriginal Peoples living in the borough, 58% are members of the First Nations, 34% are Métis and 8% are Inuit.
A few information, not many, about the Cote-des-Neiges-Notre-Dame-de-Grace borough that may help you decide where you would rather live or where you would rather work according to your preferences and your requirements.
Montreal BUSINESS Kit

Cote-des-Neiges-Notre-Dame-de-Grace Companies by Rachel Louise Barry