City of Westmount

Among our 15 cities, towns, ville and village, the City of Westmount is definitely a "Metropolitan Gem." A gem mostly because it lies on the western slopes of the Mount Royal and offers an urban forest, numerous parks, many playgrounds, thousands of city trees and carefully tended lawns and gardens on every street. 
City of Westmount - Wikipedia
The City offers a Sports and Recreation Department where many different activities such as badminton, tennis, skating and swimming are offered.

Activities that benefit from the collaboration of an important group of volunteers to coach a team, organize an activity or lend a hand during a special event. 

Each Spring the City of Westmount offers flowers as well as herb and vegetable seeding to its population. Plus, the many local community gardens recently renovated now offer nice and friendly collective spaces for growing vegetables in a nice and quiet environment.
City of Westmount Languages
In Westmount companies, 75% of the local residents can hold a conversation in French and in English. French being the official language in the Province of Quebec and French and English being the two official languages in Canada.
A City where local residents also speak Chinese, Spanish, Arabic, Italian, Farsi, Korean, Russian, German, Greek and Portugese. As for the 25 or so Aboriginal Peoples living in Westmount, 40% are members of the First Nations and 60% are Métis.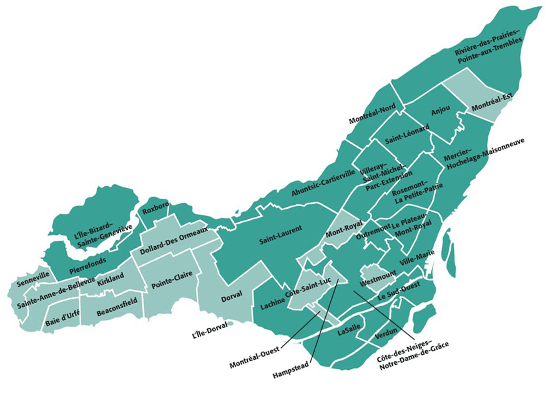 Map of the 15 Cities and 19 Boroughs of the Island of Montreal
City of Westmount Dwellings
A City where 53% of the local residents are owners and 47% are tenants and where private dwellings are divided into two categories, 14% condominiums and 86% other dwellings. 

Among those other dwellings, buildings with more than 5 stories account for 37%, buildings with less than 5 stories account for 19%, semi-detached houses account for 15%, townhouses account for 14%, detached houses account for 12% and duplex houses account for 3%.
City of Westmount Population
In the City of Westmount, the majority of the population is non-immigrant and accounts for 67%, the immigrant population accounts for 27% and the non permanent residents account for 6% (*).
City Hall - City of Westmount
(*) Technically and according to Statistics Canada: "non-permanent residents (NPRs) are persons who have been legally granted the right to live in Canada on a temporary basis under the authority of a temporary resident permit, along with members of their family living with them".

The City of Westmount is surrounded by three Montreal boroughs, Le Sud-Ouest, Côte-des-Neiges-Notre-Dame-de-Grâce and Ville-Marie. 

Montreal Kits
City of Westmount

Rachel Louise Barry    Sitemap    Solo Build It!    What's New?
Montreal Kits © All Rights Reserved 2018-2023
The information provided by Montreal Kits is informational only and has no legal value.