City of Cote-Saint-Luc
The City of Cote-Saint-Luc is one best city to retire and the third largest. Its population is close to 35 000 citizens and its median age is close to 46 years old. A City where seven Synagogues and one Catholic church adorn the scenery.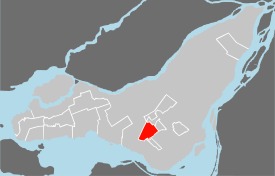 City of Cote-Saint-Luc - Wikipedia
With its sports and recreation programs, its aquatic center, its 29 parks and its municipal public library, Côte-Saint-Luc is definitely considered one best city of the Island of Montreal.

A City located in the West End of the Island of Montreal with a large variety of community resources, sports and recreation programs, sustainable living, parks and activities and many others to discover and appreciate.
Apart from being a bilingual city with a mainly English-speaking population, Côte Saint-Luc is one of the first cities to ban pesticides, to require bicycle helmets and to introduce a "Citizens on Patrol" program.
A City that created a 14 km bike lane to encourage its residents to stay active and where one of the Quebec leading municipal public libraries is located. A library called the "Bibliothèque publique Eleanor London Côte Saint-Luc Public Library". 
City of Cote-Saint-Luc Languages
A City of Cote-Saint-Luc companies where 64% of the local population can hold a conversation in French and in English. French being the official language in the Province of Quebec and French and English being the two official languages in Canada.
A City where local residents also speak Russian, Farsi, Hebrew, Romanian, Spanish, Italian, Yiddish, Arabic, Uralic (38 languages spoken predominantly in Northern Eurasia) and Tagalog. As for the 40 or so Aboriginal Peoples living in the City, 57% are members of the First Nations and 43% are Métis.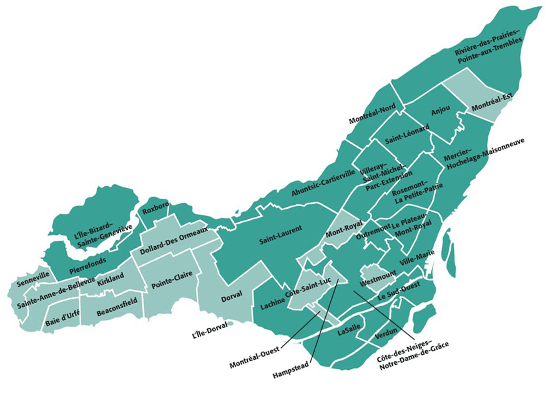 Map of the 15 Cities and 19 Boroughs of the Island of Montreal
City of Cote-Saint-Luc Dwellings 
A City where 49% of the local residents are owners and 51% and are tenants and where private dwellings are divided into two categories, 24% condominiums and 76% other dwellings. 
Among those other dwellings, buildings with more than 5 stories account for 53%, detached houses account for 15%, buildings with less than 5 stories account for 11%, semi-detached houses account for 11%, townhouses account for 5% and duplex houses account for 5%.
City of Cote-Saint-Luc Population

In the City of Cote-Saint-Luc, the majority of the population is non-immigrant and accounts for 53% while the immigrant population accounts for 45% and the non permanent residents account for 2% (*)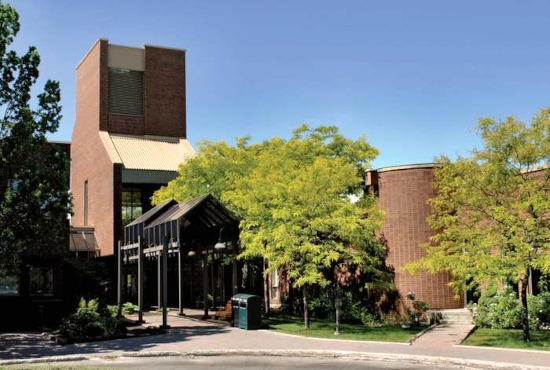 City Hall - City of Cote-Saint-Luc
(*) Technically and according to Statistics Canada: "non-permanent residents (NPRs) are persons who have been legally granted the right to live in Canada on a temporary basis under the authority of a temporary resident permit, along with members of their family living with them".

The City of Côte-Saint-Luc is surrounded by the borough of Lachine, the borough of Saint-Laurent, the Town of Hampstead, and the Town of Montreal West. 

Montreal Kits
City of Cote-Saint-Luc


QUESTIONS? About Building Your Business With SBI!
I highly recommend Solo Build It! SBI! took me all the way from an idea to a successful business called Montreal Kits, thanks to its 24/7 serious, genuine, positive and unmatched business building system and to each and every effective tools, courses and support it offers. RLB
Montreal Kits © All Rights Reserved 2018-2023.
The information provided by Montreal Kits is informational only and has no legal value.