City of Beaconsfield

The City of Beaconsfield is home to the Beaurivage Village where breakfast is served in the old general store. A breakfast followed by a visit to an art gallery, by a pleasant stroll on the wide sidewalks of the main boulevard and by a rest on a shaded bench.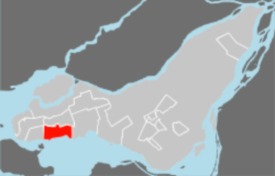 City of Beaconsfield - Wikipedia
The city has a lot to offer to its residents including three Boat Ramps, one Yacht Club and one Beaconsfield Boulevard along the shore of the Lac Saint-Louis.

Also offered is a large variety of programs and services including adults, seniors and teen activities such as golf clinics, summer camps and skating lessons.
A City that offers a large municipal building where sports and entertainment events, conferences and wedding ceremonies take place along with no less than 57 parks and green spaces including school parks, outdoor pools and yacht clubs. 
City of Beaconsfield Languages
In the City of Beaconsfield, 94% of the local population can hold a conversation in French and in English. French being the official language in the Province of Quebec and French and English being the two official languages in Canada.

A City where local residents also speak Italian, Chinese, Spanish, German, Farsi, Arabic, Polish, Greek, Russian and Portuguese. As for the 95 or so Aboriginal Peoples living in the City, 28% are members of the First Nations and 72% are Métis.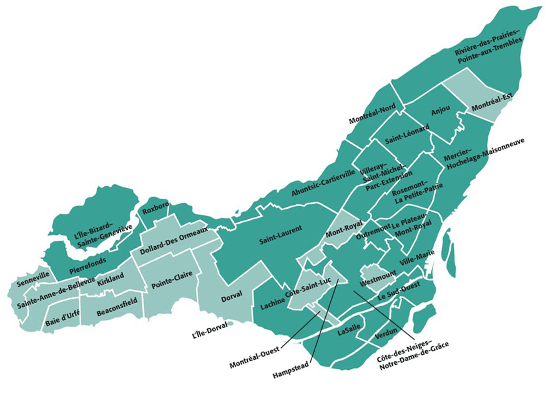 Map of the 15 Cities and 19 Boroughs of the Island of Montreal
City of Beaconsfield Dwellings
A City where 90% of the local residents are owners, where 10% are tenants and where private dwellings are divided into two categories, 4% condominiums and 96% other dwellings.

Among all those other dwellings, detached houses account for 86%, townhouses account for 7%, buildings with less than 5 stories account for 5%, semi-detached houses account for 1% and duplex houses also account for 1%.
City of Beaconsfield Population
In the City of Beaconsfield, the majority of the population is non-immigrant and accounts for 76%, the immigrant population accounts for 23% and the non permanent residents account for 1% (*).

(*) Technically and according to Statistics Canada: "non-permanent residents (NPRs) are persons who have been legally granted the right to live in Canada on a temporary basis under the authority of a temporary resident permit, along with members of their family living with them".

City Hall - City of Beaconsfield
A City of Beaconsfield surrounded by the Town Baie-D'Urfé, the Town of Kirkland, the City of Dollard-des-Ormeaux and the City of Pointe-Claire.

Montreal Kits
City of Beaconsfield

Rachel Louise Barry    Sitemap    Solo Build It!    What's New?
Montreal Kits © All Rights Reserved 2018-2023
The information provided by Montreal Kits is informational only and has no legal value.