Ahuntsic-Cartierville Electoral Profile
---
In the City of Montreal, the borough of Ahuntsic-Cartierville electoral profile, as well as all the other "Election Montreal" electoral profiles are divided into a specific number of districts based on the electoral geography and population of each borough.
Each of our 19 boroughs and each of their respective electoral districts are divided in such a way that each electoral district offers a similar number of electoral votes and voters. A series of 19 districts divided into 58 electoral districts by Élection Montréal according to its elections electoral systems.
Ahuntsic-Cartierville Electoral Profile and Map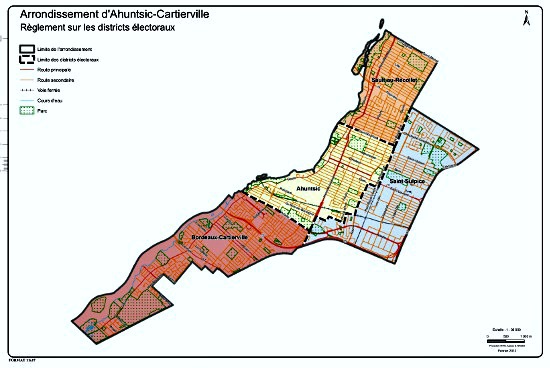 Ahuntsic-Cartierville Electoral Geography
Ahuntsic-Cartierville four (4) electoral districts
Sault-au-Récollet

Saint-Sulpice
Ahuntsic
Bordeaux-Cartierville

On our next municipal election day, the residents of Ahuntsic-Cartierville will vote for
the mayor of the City of Montreal
and for the five (5) members of the Borough Council
the mayor and city Councillor of the borough
one (1) city Councillor for each of the four (4) electoral districts
Ahuntsic-Cartierville - Habiter Montreal
Ahuntsic-Cartierville Electoral Democracy
---
Borough councils who have jurisdiction over specific matters in accordance with the City Charter of the City of Montreal. Matters that include:

Culture

Financial management

Fire prevention

Housing
Human resources

Non-taxation fees

Parks

Recreation

Roads
Social and community 

development


Urban planning

Waste collection
The role of the borough council is to adopt by-laws and to administer local services such as urban planning, road network, permits, culture and recreation.
A borough council who consults local residents regarding planning regulations and who makes recommendations to the City Council. Borough councillors are elected by borough voters and, for the most part, are members of the City Council as City councillors.
Ahuntsic-Cartierville - Habiter Montréal
City Council and Borough Councils
---
The City mayor is democratically elected by the residents of the City of Montreal and, the borough mayors are elected by the residents of each borough. The City of Montreal is divided into 19 boroughs, City Hall is located in the Ville-Marie borough and a total of 18 borough mayors are elected every four (4) years.
Borough Councils are composed of no fewer than five (5) Councillors – both borough and city councillors. The number of borough and city councillors who sit on borough councils depends on the size and population of each borough. City councillors sit on the city council as well as on their respective borough council.
Ahuntsic-Cartierville - Habiter Montreal
One City of Montreal, 19 boroughs, one city mayor, 18 borough mayors (the Mayor of the City of Montreal is also the Mayor of the Ville-Marie borough), 46 City Councillors and a total of 65 elected officials.

Montreal ISLAND Kit

Ahuntsic-Cartierville Electoral Profile by Rachel Louise Barry