Lachine Electoral Profile
---
The borough of Lachine electoral profile, as well as all the other Election Montreal electoral profiles, are divided into a specific number of districts based on the electoral geography of the borough.
Each of our 19 boroughs and each of their respective socio-economic characteristics and electoral districts are divided in such a way that each district has a similar number of electoral total members.

Lachine Electoral Map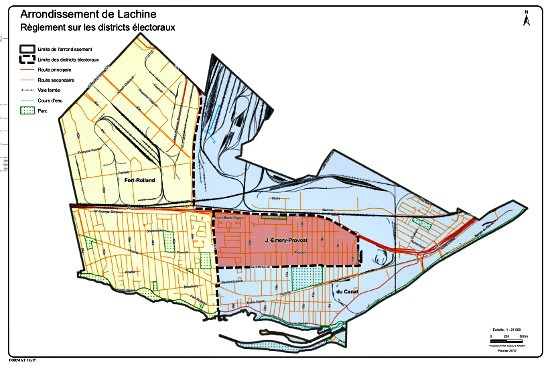 Lachine Electoral Geography
Lachine three (3) electoral districts
du Canal

J.-Émery-Provost

Fort-Rolland

On our next municipal election day, local residents will vote for

the mayor of the City of Montreal 
and for the five (5) members of the Borough Council
the mayor and city Councillor of the borough
one (1) city Councillor for the borough
one (1) borough Councillor for each of the three (3) electoral districts
Montreal Environment Urban Planning
---
Borough councils make decisions and adopt by-laws in matters such as of borough planning, roads, permits, culture and recreation.
That said, the City of Montreal has prepared a Master Plan divided into different parts including those related to Montreal boroughs and cities. A Master Plan with a planning and development vision and a series of mesures for implementing the goals and objectives resulting from that vision. 

A Master Plan divided into seven (7) goals:

High-quality diversified and complete living environments,
Structuring, efficient transportation networks integrated into the urban fabric,
A prestigious, convivial and inhabited centre,
Dynamic, accessible and diversified employment areas,
High-quality architecture and urban landscapes,
An enhaced built, archaeological and natural heritage,
A healthy environment.
A Master Plan that seeks to significantly improve the quality of our architecture and our urban landscape and to give a better urban design to our culture. A detailed planning designed with the participation of residents, boroughs, ministries and with private, public and associative organizations. 
Lachine Electoral Profile and COVID-19
---
Montreal Mayor Valérie Plante has been named and is now part of a global mayors' task force aimed at helping cities recover from Covid-19. A global task and a global force with a focus on public health and on reducing inequality.
Plante is the only Canadian named to the 11-person panel.
LaSalle - Habiter Montréal
She is accompanied by the mayors of Hong Kong in the People's Republic of China, Lisbon in Portugal, Seattle in Washington State, Melbourne in Australia, New Orleans in Louisiana, Rotterdam in the Netherlands, Freetown in Sierra Leone, Medellin in Columbia, Los Angeles in California and Seoul in South Korea.

The task force is an initiative of the C40 Cities network, which focuses largely on issues related to climate change.  
Montreal ISLAND Kit

Lachine Electoral Profile by Rachel Louise Barry


To be reviewed, analysed, evaluated and made available online. RLB