History Book Store
---
A one of a kind history book store created exclusively for Dr JE Peterson, a political analyst and author of history books, Dr JE Peterson has taught at various universities in the United States and France and has been associated with a number of leading research institutes in the United States and the United Kingdom. 

Until 1999, he served in the Office of the Deputy Prime Minister for Security and Defence in Muscat, Sultanate of Oman. He is also a member of the Academic Advisory Board of the Emirates Center for Strategic Studies and Research.

Affiliated with the Center for Middle East Studies at the University of Arizona, he also serves on the editorial advisory boards of the Middle East Journal, the Journal of Arabian Studies, the Journal of Oman Studies, Liwa (the journal of the National Archives of the United Arab Emirates), and the academic advisory board of the Emirates Center for Strategic Studies and Research.
History Book Store - Dr JE Peterson
Dr. J. E. Peterson is a political analyst and historian specialising in the Arabian Gulf and Peninsula.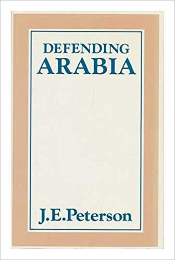 Arabia - JEP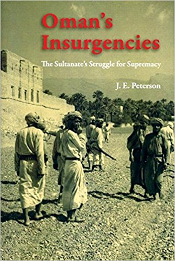 Oman - JEP
He is the author or editor of a dozen books and monographs, the most recent of which are:

Historical Muscat:  An Illustrated Guide and Gazetteer (Brill, 2007); 
Oman's Insurgencies:  The Sultanate's Struggle for Supremacy (Saqi, 2007);
The GCC States:  Participation, Opposition, and the Fraying of the Social Contract (London School of Economics and Politics, Kuwait Programme, December 2012, No. 26);
The Emergence of the Gulf States:  Studies in Modern History (editor, Bloomsbury, 2016);
Saudi Arabia Under Ibn Saud:  Economic and Financial Foundations of the State (I.B. Tauris, 2018).
A third edition of Historical Dictionary of Saudi Arabia (Scarecrow Press) is forthcoming.

Dr Peterson has also published some 40 scholarly articles and an equal number of contributions to edited works. 
Recent examples of the latter include:
"Yemen:  Tribes, the State, and the Unravelling" in Tribes and States in a Changing Middle East (Uzi Rabi, editor, Hurst/Oxford University Press, 2016);
"Prospects for Proliferation in Saudi Arabia" in Crossing Nuclear Thresholds (Jeannie L. Johnson et al., eds., Palgrave Macmillan, 2018). 
He is presently working on a study of Oman since 1970 and a modern history of Arabia.

Dr JE Peterson in Doha, Capital of Qatar
Montreal SHOPPING Kit
History Book Store & Qatar Government - Dr JE Peterson
A special courtesy to a very special friend by Rachel Louise Barry
Discovering the 60,000 or so companies established on the Island of Montreal.