Fourth Montreal Employment Part-2
---
The NAICS 31-33 sector, including the present fourth Montreal Employment Part-2 related to the NAICS 32 sector, is composed of establishments with activities mostly related to the chemical, mechanical or physical transformation of materials and/or substances into new and different products.
Products that are finished and ready to be used or consumed, and semi-finished products that serve as raw material for the manufacturing of other products by various manufacturing establishments known by a variety of trade designations, such as plants, factories or mills.
A fourth Montreal Employment Part-2 and an Economic Career Profile with employment information related to our NAICS 31-33 Manufacturing sector and to an industry that ranks fourth in the City of Montreal and second on the Island of Montreal.

Fourth Montreal Employment Part-2 - NAICS 32
---
Manufacturing - NAICS 32

Emploi Québec - Information sur le marché du travail
Annual employment income in the Montreal region in 2015 - $48,000
NAICS 327

- Non-Metallic Mineral Product Manufacturing
Hourly Wages in the province of Québec in 2017
Government of Canada - National Occupation Classification
Employment and Social Development Canada
NOC 9413 - Glass forming and finishing machine operators and glass cutters
NOC 9414 - Concrete, clay and stone forming operators
NOC 7452 - Material handlers
NOC 5244 - Artisans and craftspersons
NOC 6411 - Sales and account representatives - wholesale trade (non-technical)
NOC 7311 - Construction millwrights and industrial mechanics
NOC 7511 - Transport truck drivers
NOC 7292 - Glaziers
NOC 0016 - Senior managers - construction, transportation, production and utilities
NOC 6552 - Other customer and information services representatives
NOC 7611 - Construction trades helpers and labourers
NOC 9211 - Supervisors, mineral and metal processing
NOC 9619 - Other labourers in processing, manufacturing and utilities
NOC 0601 - Corporate sales managers
NOC 1431 - Accounting and related clerks
Fourth Montreal Employment Part-2
---
Manufacturing - NAICS 32
Emploi Québec - Information sur le marché du travail

Annual employment income in the Montreal region in 2015 - $57,000
NAICS 322

- Paper Manufacturing
Hourly Wages in the province of Québec in 2017
---
Employment and Social Development Canada
NOC 9435 - Paper converting machine operators
NOC 9614 - Labourers in wood, pulp and paper processing
NOC 9433 - Papermaking and finishing machine operators
NOC 7452 - Material handlers
NOC 9619 - Other labourers in processing, manufacturing and utilities
NOC 0911 - Manufacturing managers
NOC 2171 - Information systems analysts and consultants
NOC 6411 - Sales and account representatives - wholesale trade (non-technical)
NOC 1431 - Accounting and related clerks ()3%
NOC 1111 - Financial auditors and accountants
NOC 0016 - Senior managers - construction, transportation, production and utilities
NOC 7381 - Printing press operators
NOC 1241 - Administrative assistants
NOC 9215 - Supervisors, forest products processing
NOC 9617 - Labourers in food, beverage and associated products processing
Fourth Montreal Employment Part-2 - NAICS 32
---
Manufacturing - NAICS 32
Emploi Québec - Information sur le marché du travail
Annual employment income in the Montreal region in 2015 - $59,000

NAICS 324 - Petroleum and coal product manufacturing

NAICS 325 - Chemical manufacturing
Hourly Wages in the province of Québec in 2017
---
Government of Canada - Labour Market Information in the Montreal Region

National Occupation Classification

 - NOC 2016 Version
NOC 9421 - Chemical plant machine operators
NOC 2211 - Chemical technologists and technicians
NOC 2112 - Chemists
NOC 0911 - Manufacturing managers
NOC 9212 - Supervisors, petroleum, gas and chemical processing and utilities
NOC 9613 - Labourers in chemical products processing and utilities
NOC 9619 - Other labourers in processing, manufacturing and utilities
NOC 0016 - Senior managers - construction, transportation, production and utilities
NOC 6221 - Technical sales specialists - wholesale trade
NOC 9232 - Petroleum, gas and chemical process operators
Fourth Montreal Employment Part-2
---
Manufacturing - NAICS 32
Emploi Québec - Information sur le marché du travail
Annual employment income in the Montreal region in 2015 - $39,000

NAICS 326 - Plastics and Rubber Products Manufacturing
Hourly Wages in the province of Québec in 2017
---
Government of Canada - Labour Market Information in the Montreal Region

National Occupation Classification

 - NOC 2016 Version
NOC 9422 - Plastics processing machine operators
NOC 9535 - Plastic products assemblers, finishers and inspectors
NOC 9615 - Labourers in rubber and plastic products manufacturing
NOC 9214 - Supervisors, plastic and rubber products manufacturing
NOC 0911 - Manufacturing managers
NOC 7452 - Material handlers
NOC 0016 - Senior managers - construction, transportation, production and utilities
NOC 1521 - Shippers and receivers
NOC 6411 - Sales and account representatives - wholesale trade (non-technical)
NOC 9619 - Other labourers in processing, manufacturing and utilities
NOC 1431 - Accounting and related clerks
NOC 7231 - Machinists and machining and tooling inspectors
Fourth Montreal Employment Part-2 - NAICS 32
---
Manufacturing - NAICS 32
Emploi Québec - Information sur le marché du travail
Annual employment income in the Montreal region in 2015 - $41,000

NAICS 323 - Printing and Related Support Activities
Hourly Wages in the province of Québec in 2017
---
Government of Canada - Labour Market Information in the Montreal Region

National Occupation Classification

 - NOC 2016 Version
NOC 7381 - Printing press operators
NOC 9471 - Plateless printing equipment operators
NOC 9619 - Other labourers in processing, manufacturing and utilities
NOC 0911 - Manufacturing managers
NOC 5223 - Graphic arts technicians
NOC 9473 - Binding and finishing machine operators
NOC 7303 - Supervisors, printing and related occupations
NOC 5241 - Graphic designers and illustrators
NOC 6411 - Sales and account representatives - wholesale trade (non-technical)
NOC 0016 - Senior managers - construction, transportation, production and utilities
NOC 9472 - Camera, platemaking and other prepress occupations
NOC 6552- Other customer and information services representatives
NOC 1521 - Shippers and receivers
NOC 5136 - Painters, sculptors and other visual artists
NOC 6421 - Retail salespersons
Fourth Montreal Employment Part-2
---
Manufacturing - NAICS 32
Emploi Québec - Information sur le marché du travail
Annual employment income in the Montreal region in 2015 - $41,000

NAICS 321 - Wood Product Manufacturing
Hourly Wages in the province of Québec in 2017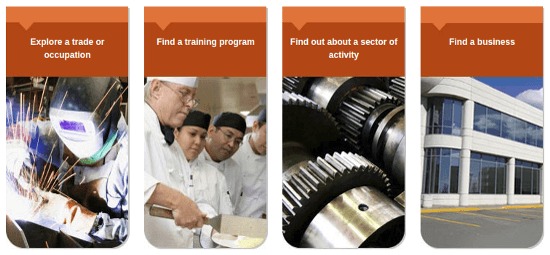 Information sur le marché du travail - Emploi Québec
Government of Canada - Labour Market Information in the Montreal Region

National Occupation Classification

 - NOC 2016 Version
NOC 7272 - Cabinetmakers
NOC 9614 - Labourers in wood, pulp and paper processing
NOC 9437 - Woodworking machine operators
NOC 9533 - Other wood products assemblers and inspectors
NOC 7271 - Carpenters
NOC 0016 - Senior managers - construction, transportation, production and utilities
NOC 9215 - Supervisors, forest products processing
NOC 6411 - Sales and account representatives - wholesale trade (non-technical)
NOC 7452 - Material handlers
NOC 9532 - Furniture and fixture assemblers and inspectors
NOC 9537 - Other products assemblers, finishers and inspectors
NOC 0911 - Manufacturing managers
NOC 1111 - Financial auditors and accountants
NOC 1241 - Administrative assistants
NOC 6552 - Other customer and information services representatives
---
Montreal BUSINESS Kit
Fourth Montreal Employment Part-2 - NAICS 32 by Rachel Louise Barry
Fourth Montreal Employment - NAICS 31