Montreal Cities Online Maps
Montreal cities online maps are, in a way, about the Island of Montreal with its 19 boroughs that hold specific powers and with its 15 reconstituted cities that also hold specific powers. Each city offers local services to the residents within each of their city limits.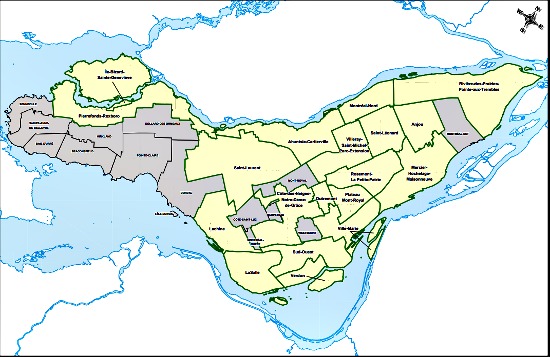 Island of Montreal
In 2002 the Parti Québécois merged all the cities of the Island of Montreal into one mega City. In 2006 the Parti Libéral partially demerged the Island of Montreal into 16 cities, 15 independent cities including the very small Dorval Island and the City of Montreal divided into 19 boroughs. 

Nowadays, each Borough Council has its own budget and each borough offers direct services to its residents. Services that include cultural activities, distribution of drinking water, maintenance of public places, local parks and municipal roads, social development, sports activities and urban planning.
Island of Montreal Cities Online Maps
---
Town of Baie-d'Urfé
City of Beaconsfield
City of Côte-Saint-Luc
City of Dollard-des-Ormeaux
City of Dorval
Town of Dorval Island
Town of Hampstead
Town of Kirkland
Ville de Montréal-Est
Town of Montreal-West
Town of Mount-Royal
City of Pointe-Claire
Sainte-Anne-de-Bellevue
Village de Senneville
City of Westmount
Each City Council in each reconstituted city also offers direct services to their residents. Taxpayers in reconstituted cities receive a separate tax bill for their part of shared agglomeration services.
The entire Island of Montreal officially called the Agglomeration of Montreal is governed by the Agglomeration Council. The Council offers shared services to each borough and each city and the costs of these services are shared by the tax payers in both boroughs and cities.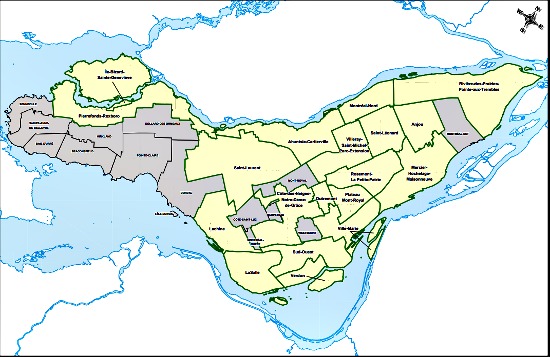 Island of Montreal
The Agglomeration Council produces Montreal en statistique that provides various information such as demographic and economic profiles for each borough and each city of the Island of Montreal.
The main topics covered are employment, business establishments, household spending, residential manpower and residential construction and housing. Facts and figures that are available by subject, by territory and by map.
Montreal 

URBAN

 Kit


Montreal Cities Online Maps by Rachel Louise Barry