Montreal Best Small Cities 4
---
Three best small cities 4 that offer a large variety of resources such as parks and playgrounds, courses inf itness and wellness, culinary workshops, employment opportunities, Wi-Fi access and commercial streets with their many retail outlets, gourmet stores, coffee shops, wine bars and restaurants.
Town of Montreal West
---
An interesting fact about Montreal West as one of the best small cities 4 of the Island of Montreal is the CPR Block Tower at the Westminster Railway Crossing.
To celebrate the 100th anniversary of the Town of Montreal West, a Centennial Project was created and, in 1997, many volunters from the community purchased and restored the CPR Block Tower that now houses a museum about the many aspects of the Town.
Montreal West is an ideal place to work, live and play simply because of its small town quality of life and large City of Montreal convenience. A century-old community with quiet tree-lined streets and predominantly single family dwellings.
Town of Mount Royal
---
The Town of Mount Royal is a close-knit community acutely aware of global issues. Their "green town" extends east and west of the Décarie Expressway also called Autoroute 15. An expressway between its industrial and residential sectors, with retail businesses on both sides.
The Town is located approximately 10 km from the Montreal-Trudeau Airport and 15 km from the Old Port in Montreal. Among other means of transport, two metro stations, Namur and de la Savane and two bus lines, the 73 to and from du Collège metro station and the 92 to and from the Jean-Talon metro station.
Mount Royal residents are resolutely active. They play many sports and enjoy going on family outings. Dancing, swimming and gardening where melon fields once stood many years ago are some of their favorite activities.
City of Pointe-Claire
The City of Pointe-Claire is located on the shore of Lake Saint-Louis and offers to its residents an extensive urban forest along with a significant architectural and land heritage.
Pointe-Claire is fully aware of today's environmental, social and economic realities and, in order to improve the quality of life of its residents it has recently launched a number of sustainable development initiatives such as environmental protection, biodiversity preservation and economic efficiency.
The sports, cultural and community organizations of Pointe-Claire offer a wide varity of activities and services. To support all these activities and services, the City designed five Support Frameworks to make resources available to the community and to explain how to access the various types of support provided. 
Island of Montreal Best Small Cities 4 to Live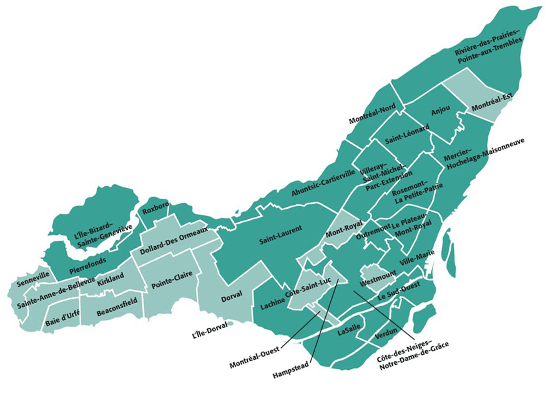 Montreal West is surrounded by Lachine, Saint-Laurent, Côte-des-Neiges-Notre-Dame-de-Grâce and Côte-Saint-Luc. Mount Royal is surrounded by Saint-Laurent, Villeray-Saint-Michel-Parc-Extension, Outremont and Cote-des-Neiges-Notre-Dame-de-Gracre and Pointe-Claire is surrounded by Beaconsfield, Kirkland, Dollard-des-Ormeaux and Dorval.

Montreal ISLAND Kit
Best Small Cities 4 by Rachel Louise Barry